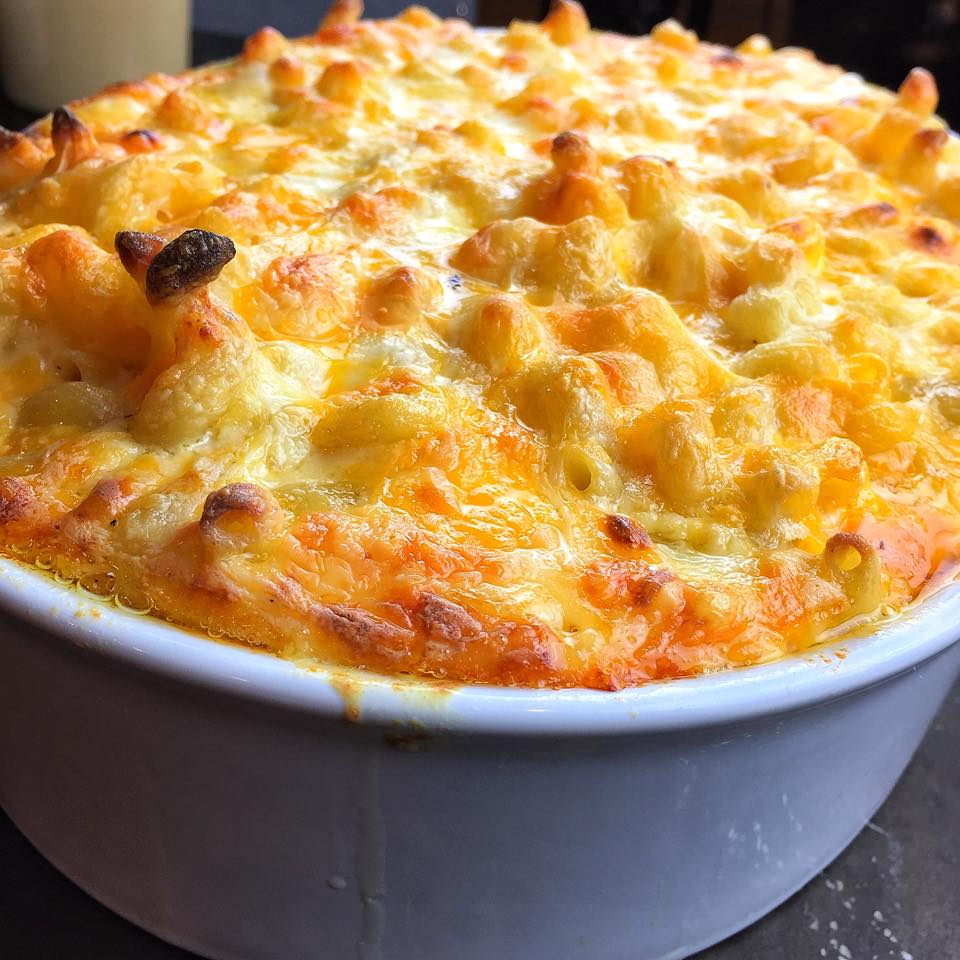 Darrius Cooks 6 Cheese, Mac n Cheese!
Ingredients
6 cups of cooked pasta (elbow macaroni works best)
1 stick of butter
4 tablespoons of flour
2 cups of half and half
1 cup of heavy cream (optional)
1 teaspoon of salt
1 teaspoon of pepper
1/2 teaspoon of garlic powder
1/2 teaspoon of onion powder
1/2 teaspoon of smoked paprika
4 cups of shredded cheese – your choice (for this, I used what I had left over Havarti, Parmesan, White Cheddar, Monterey Jack, Gouda, and Velveeta)
1/2 cup of sour cream
*shredded cheese for topping
1. Preheat the oven to 400 degrees.
2. Melt the butter.
3. Then stir in the flour and cook for about 60 seconds while constantly stirring.
4. Add in half and half and heavy cream and continue to stir periodically while on high heat. When the mixture comes to a boil, it should start to thicken.
5. Fold in cheese, salt, pepper, garlic powder, smoked paprika, onion powder and sour cream.
6. Allow the cheese to melt down into a smooth sauce. This should take about 3 minutes on low heat.
7. Mix with the cooked pasta and pour into a baking dish and top with more shredded cheese.
8. Bake until golden brown and bubbly. Enjoy warm!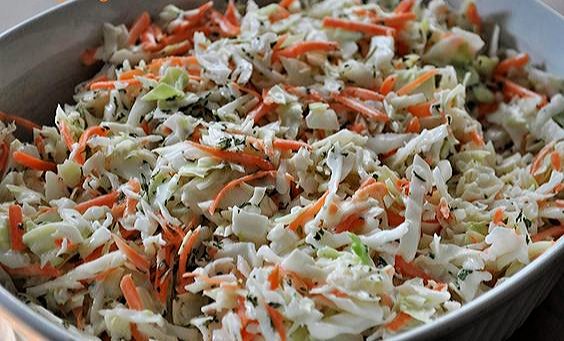 INGREDIENTS
1 (16-oz) package coleslaw mix with cabbage and carrots (see note below)
2 Tbsp minced white onion
⅓ cup sugar
½ tsp salt
⅛ tsp pepper
¼ cup milk
½ cup mayonnaise
¼ cup buttermilk
1½ Tbsp white vinegar
2½ Tbsp lemon juice
dried parsley, for garnish
DIRECTIONS
Place coleslaw mix in a large bowl.
Add onions. Mix well.
In a medium bowl combine buttermilk, milk, mayonnaise, sugar, salt, pepper, vinegar, and lemon juice. Whisk well.
Pour over cabbage mix. Stir well.
Sprinkle with dried parsley.
Chill for at least 2 hours until serving or overnight.
(By Krista Marshall)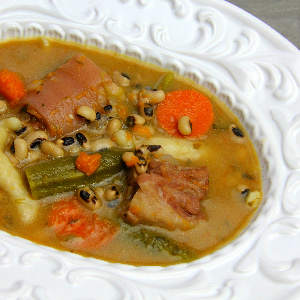 Amazing Stewed Black Eyed Peas (CaribbeanPot.com)!
You'll Need…
1-2 lbs salted pigtails
1 cup dried black eyed peas
7-9 cups water (for the soup)
1 can coconut milk (about 1 1/4 cups)
1 carrot
2 scallions
1 scotch bonnet pepper
2-3 cups diced pumpkin
12 okra
1/4 teaspoon black pepper
3 allspice berries
1 onion
4 cloves garlic
1 tablespoon veg oil
2 tablespoon chopped parsley
4 sprigs thyme
1/2 lime for washing pig tail
Flour Dumplings:
1 cup all purpose flour
pinch salt
1/4 teaspoon sugar
1/4 cup water
* Please ask your butcher to cut the pigtails for you (make sure it's salt cured pigtails and not fresh) as the bones can cause some damage to your regular kitchen knife.
Place the salted pig tails (cut into 1-2 inch pieces) in water and the lime juice, wash well and remove any tiny hairs (if there's any). Then place in a deep pan with about 5 cups of water (not mentioned in the recipe ingredient list) and boil for about 30-40 minutes. This will remove most of the salt and help to tenderize the pieces of meat (which can be tough). Click Here to watch a video on how to prepare the salted pigtails.
Soak your dried black eye peas in water overnight or at least 2 hours to help speed up the cooking time. If you want you can use canned black eye peas and cut the cooking time by half. Then in your soup pot heat the veg oil on a medium flame and go in with the thyme, scallions, onion, garlic, allspice berries, black pepper and parsley. Lower the heat to low and cook gently for 3-5 minutes.
Drain and add the boiled pieces of pigtails to the pot and stir well. NOTE: the residual salt from the pigtails will be enough to season this dish (my liking but do taste near the end and adjust accordingly).
Now turn up the heat and add all the other ingredients (except the stuff for making the flour dumplings) and bring to a boil. DO NOT cut the scotch bonnet pepper as we'll just float it in the soup to get flavor and not the raw heat. So please be gentle when stirring the pot. Unless you want that KICK.. break that Caribbean sunshine open!
Be sure to remove the tips and stems from the okra.
When it comes to a boil, reduce to a simmer and let it go for about 1 hr and 40 mins. Then make the flour dumplings (watch the video below to see how I did it).. basically mix the ingredients together with a fork, then form into a dough ball with your hands – rest for 5 minutes (cover with plastic wrap), now form little cigar shape dumplings called spinners. Add them to the pot and cook another 5-10 minutes. Do test the peas to make sure they are tender before adding the dumplings, so you can cook it a bit longer if necessary. Add more water if you find the soup is too thick… since it will thicken more as the soup cools.
You can also add sweet potatoes, green bananas, yams, dasheen, cassava etc to this for even more goodness.. I kept it simple by using what I had on hand. Remember to remove the scotch bonnet pepper and if you want you can squeeze in a tiny bit of lime juice at the end for a little brightness (optional).