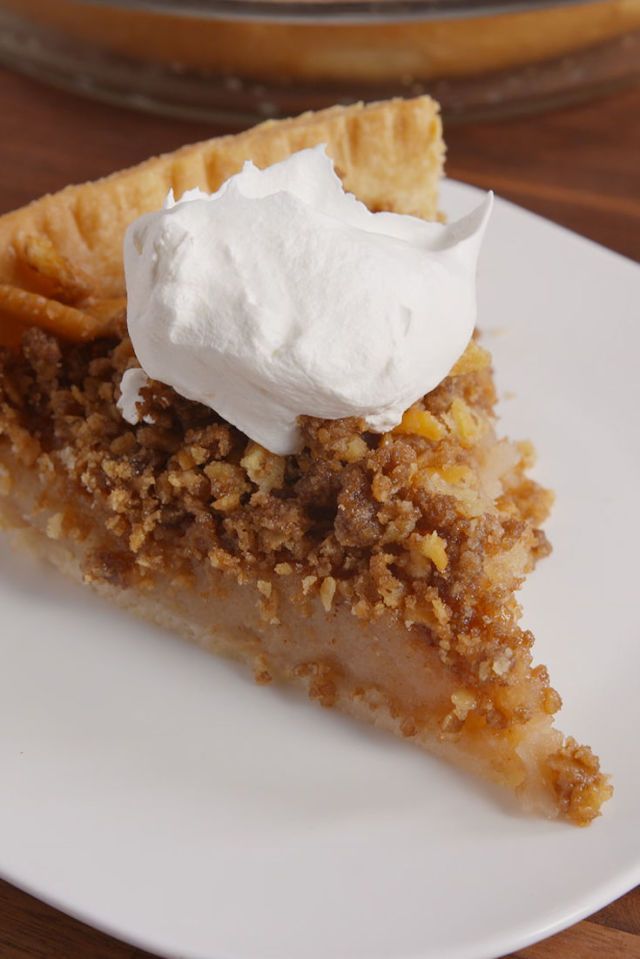 INGREDIENTS
FILLING
2 c. water
2/3 c. sugar
2 tsp. cream of tartar
35 RITZ Crackers
1 ready-to-use refrigerated pie crust
1 1/2 tbsp. lemon juice
2 tsp. cinnamon
TOPPING
1 c. crushed RITZ Crackers
2/3 c. brown sugar
1/2 tsp. ground cinnamon
1/3 c. unsalted butter, melted
This ingredient shopping module is created and maintained by a third party, and imported onto this page. You may be able to find more information about this and similar content on their web site.
DIRECTIONS
Heat oven to 400ºF.
Make filling: Mix water, granulated sugar and cream of tartar in large saucepan. Bring to boil on medium-high heat. Add crackers; simmer on medium-low heat 5 min., stirring occasionally.
Line 9-inch pie plate with crust as directed on package; fill with cracker mixture. Sprinkle with lemon juice and cinnamon.
Make topping: Combine all topping ingredients.
Bake 10 minutes at 400, reduce to 350 and cover edges of pie crust with foil. Bake 18-20 more minutes, or until pie filling has set. It shouldn't jiggle a lot when moved. Cool before serving.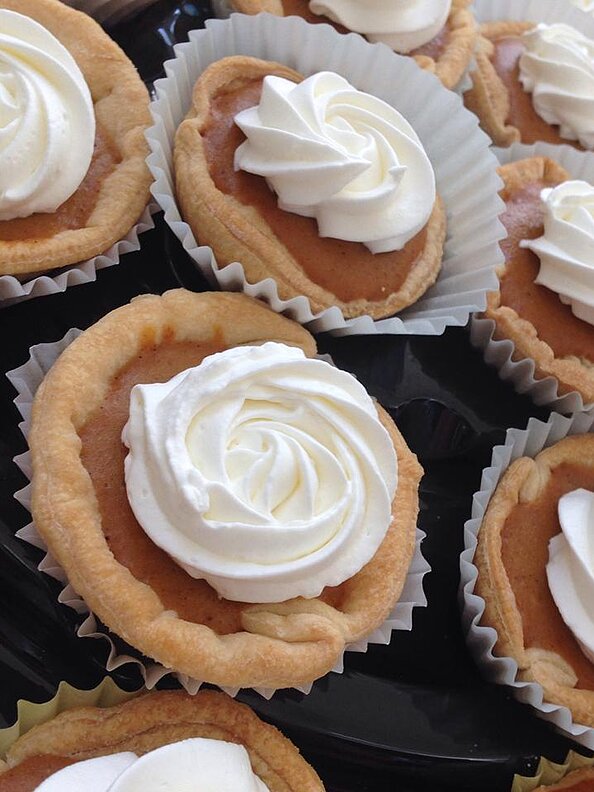 Ingredients
1 (9 inch) prepared graham cracker crust
1 (.25 ounce) package unflavored gelatin
1 teaspoon ground cinnamon
½ teaspoon ground ginger
½ teaspoon ground nutmeg
½ teaspoon salt
1 (14 ounce) can sweetened condensed milk
2 eggs, beaten
1 (15 ounce) can pumpkin puree
Directions
Step 1
In a heavy saucepan combine gelatin, cinnamon, ginger, nutmeg, and salt. Stir in condensed milk and beaten eggs, mixing well. Let stand one minute, then place on burner over low heat, stirring constantly for about 10 minutes, or until gelatin dissolves and mixture thickens. Remove from heat.
Step 2
Stir in pumpkin, mixing thoroughly, and pour mixture into graham cracker crust. Chill for at least 3 hours before serving.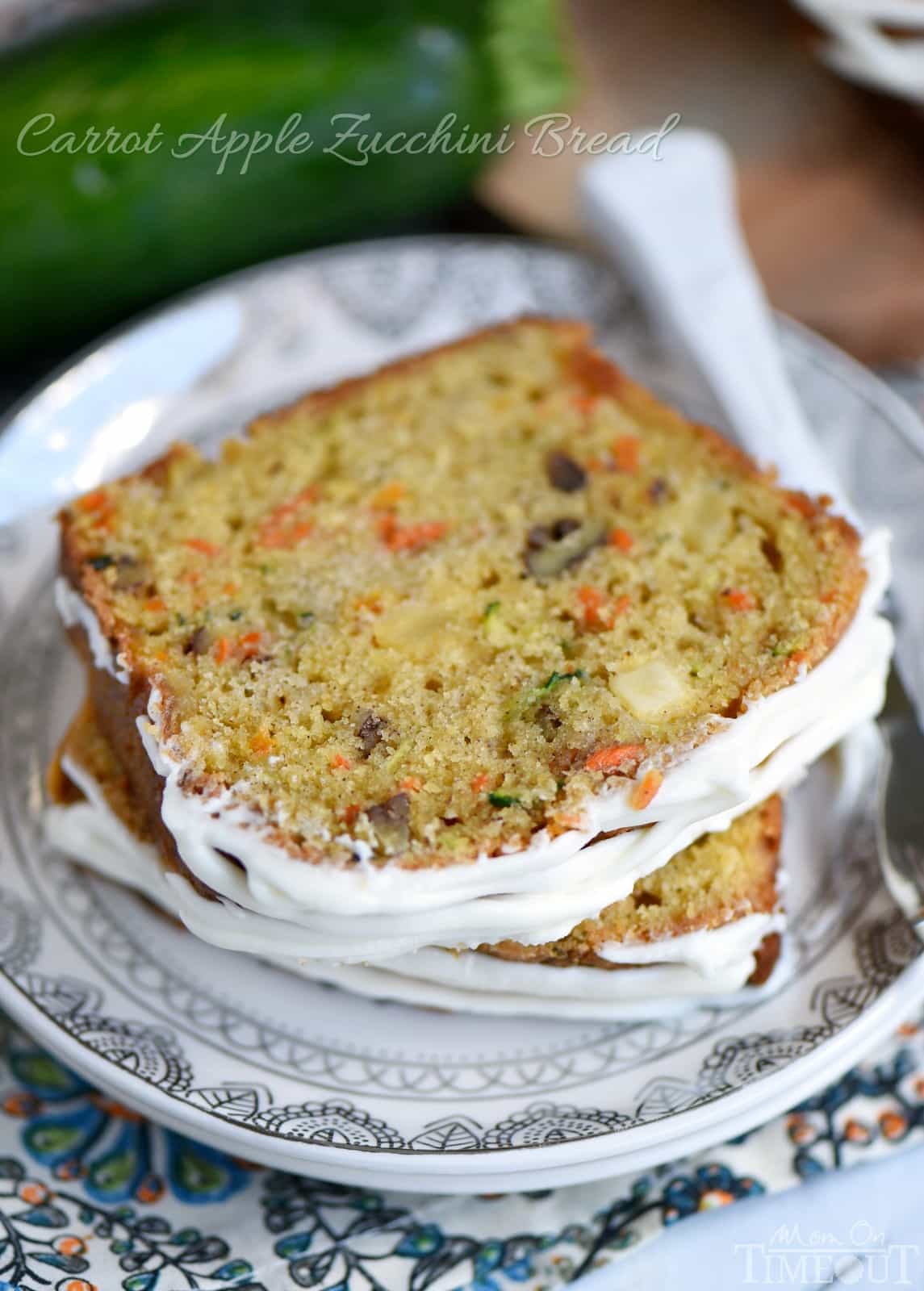 Carrot Apple Zucchini Bread!
Ingredients
1 cup unsalted butter melted
2 cups granulated sugar
3 eggs room temperature
¼ cup fresh orange juice
1 tbsp vanilla extract
3¼ cups all-purpose flour
½ tsp salt
2½ tsp baking powder
¾ tsp baking soda
1 tsp cinnamon
pinch of ground cloves
pinch of ground nutmeg
2 cups shredded carrots
1 cup shredded zucchini
1 cup diced peeled apple (Granny Smith, Fuji, whatever you have on hand)
½ cup pecans chopped
Cream Cheese Glaze/Frosting
½ cup cream cheese softened
¼ cup butter softened
2 - 3 cups powdered sugar
1-3 tbsp orange juice as needed
Instructions:
Preheat the oven to 350 degrees.
Grease and flour two 8x4 inch loaf pans. Line with parchment paper and set aside. (I use the baking spray with flour in it.)
Place zucchini in a large kitchen towel. Bring up the four corners and twist. Squeeze the towel to extract all the liquid from the zucchini, or as much as you can. Set aside.
In a large bowl, whisk together flour, salt, baking powder, baking soda, cinnamon, cloves, and nutmeg together. Set aside.
In a separate large bowl, whisk together the butter and sugar.
Add eggs, orange juice, and vanilla and whisk until combined.
Fold dry ingredients into wet ingredients along with the shredded carrots, shredded zucchini, apples, and pecans.
Pour into prepared pans.
Bake until golden brown, 55 to 60 minutes, or until loaves spring back when gently pressed with fingers.
Let cool completely before icing.
Cream Cheese Glaze/Frosting
Cream together cream cheese and butter with a hand mixer.
Add in 2 cups of powdered sugar and continue mixing. Drizzle in orange juice until desired consistency is achieved.
Frost bread and enjoy!